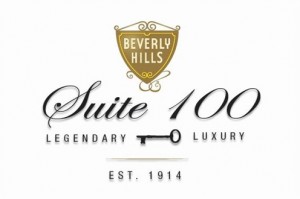 As part of Beverly Hills' 2014 Centennial celebration, Montage is one of the city's five luxury hotels participating in the hospitality promotion created by the Beverly Hills Conference and Visitors Bureau.  Each property is redecorating one of its suites in the spirit of a designated decade in the city's rich history, transporting guests back in time.
Award-winning interior and furniture designer, Nina Petronzio, has taken the lead on the Montage project, capturing the sultry sophistication and mystique that was epitomized in the 1940's by Film Noir jaded detectives, femme fatales and smoky jazz clubs.  "I wanted to create something more unexpected than a typical Hollywood Glamour theme," said Petronzio. "Film Noir provides a feeling and sensibility that exudes mystique, allure and elegance, all prominent in the classic Hollywood crime dramas."
To further enhance the authenticity of the period, Suite 100 will be loaded with vintage details, including a historic phonograph player and big band vinyl; the first "noiseless typewriter"; a collection of literature, games, movies, music, whimsical libations and edibles, all born in the 1940's.  A "Press for Champagne" button immediately beckons a liveried butler, with bubbly in hand.
"Although the authenticity of the furnishings is important," said Petronzio, "It's as important to me that the rooms have luxury lifestyle elements of that era." Keeping that in mind, she enlisted a short list of notable partners for Suite 100 at Montage Beverly Hills, many of whom have been long-time collaborators and all of whom emblematize the luxury of the 1940's Film Noir theme.
Plush Home, the Los Angeles based high-end upholstery and case goods brand, created a limited edition furniture collection inspired by furnishings and architectural details of that era. Founded in the early 20th century, Lalique has endured as the ultimate symbol of French luxury. Quintessential Lalique furniture pieces and objets d'art were selected to enhance the overall image of the suite and make guests feel they've stepped back in time.  Rich fabrics provided by Schumacher, the only 19th century decorative textile supplier still privately owned, feature authentic, classic and timeless looks which work cohesively with the bespoke furnishings in the space. Luxury Italian linen manufacturer Barbacci, known for creating the finest linens in the world, was enlisted to translate Petronzio's custom braid embroidery design into the stitching showcased in both master suites. AGA John provides additional intimacy, exceptional color hues, comfort, and a final layer of luxury to the spaces with their 100% wool, hand-knotted, vegetable died Egyptian rugs.
 Linda Steinberg Fine Art curated a diverse collection of gallery-level artwork specifically chosen to accompany the fine wall treatments, Plush Home furnishings and Schumacher fabric selections. The collection will include a revolving display of 1940's-inspired photography, giclée and original paint on canvas throughout the year. Los Angeles' preeminent dealer in twentieth century design, Thanks for the Memories, showcases pieces with special attention to authenticity and quality. All are kept in immaculate condition. Key pieces being displayed in the suite are a John Vassos-designed "RCA Special" phonograph player, pristine Underwood Noiseless Typewriter and a host of historic luxury antiques and collectibles, many available for purchase.
VIEW BEVERLY HILLS SUITE 100 FURNISHINGS