LUXURY RESIDENTIAL & HOSPITALITY CASEGOODS AND UPHOLSTERY SINCE 2003
Since 2003, exquisite craftsmanship and superb materials have been the hallmark of the Plush Home bespoke furniture collection, designed exclusively by acclaimed interior and furniture designer Nina Petronzio. We have been committed to keeping our manufacturing here at home by employing local craftsmen to not only ensure the quality and values of our product, but to also support our national workforce.
Plush Home wood products stand prominently in the company of the most desirable furniture, specified by some of the biggest luxury brands in the world. Absolute perfection and attention to detail make this fine collection incomparable gems which convey a sense of elegance, savoir-vivre and exclusivity of the highest level. Our premium finishes are HAPS (hazardous air pollutants) free and moisture resistant.
OUR STANDARD WOOD TYPES
Maple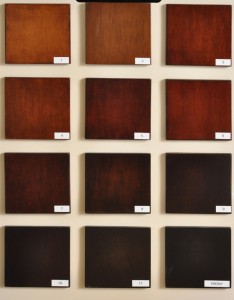 Maple has a very fine, smooth, and even texture. Its grain is typically straight, but frequently offers subtle curly or wavy figuring. White to creme color in its natural form, Maple readily absorbs finishes well, allowing it to be stained to simulate a variety of other wood species. Maple items are best described as close-grained and subdued, known for its time-honored history in American colonial furniture. Generally used for medium price-ranged categories, we offer 12 finish options to select from, with suggested sheen levels of medium, high gloss, or painted lacquer. There is a 15% upcharge for custom finish requests.
Mahogany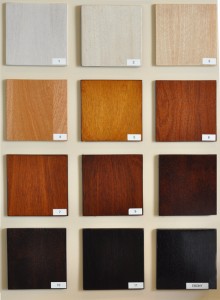 Mahogany is considered to be one of the most premium woods in which to create fine furniture. Charming irregularities in its grain and interlocking parallel ribbons often produce highly desired figures such as fiddleback, blister, stripe, and mottle. Although the elegance of its open pores (often revealing natural hints of dark colored gum or white deposits inside them) give this tropical wood a beloved texture, our seasoned craftsmen can also attain "full-filled" options for those who prefer a smoother quality. Mahogany's natural color of reddish brown can accommodate most stains, working exceptionally well and most popular in our darker finishes. We offer 12 finish options to select from, with suggested sheen levels of low, medium or high gloss. There is a 15% upcharge for custom finish requests.
Walnut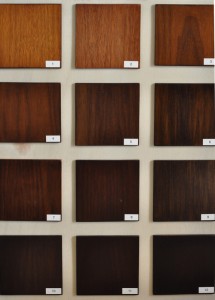 Walnut is a prized species of wood used for fine furniture. Acclaimed for its graceful shading and the extensive variety of patterns within its own species (stripes, burls, mottles, crotches, and curls), Walnut also possesses superior physical qualities. Naturally light to chocolate brown in color, with moderately open grain lines throughout, Walnut exudes an inherently rich and warm feel with or without additional staining. For the connoisseurs who may not prefer the "reddish" tones that are inherent to Mahogany woods, our craftsmen can attain true "chocolate" shades with Walnut. Even in the darkest finishes, at closer look the exquisite patterns synonymous with this wood reveal an unparalleled elegance. We offer 4 finish options ranging from light brown to ebony, with suggested sheen levels of matte, low, medium, or high gloss.
SHEEN SELECTIONS
Matte shows the natural sheen of the wood. This option works well with Walnut and select exotic veneers.
Low is a very low reflective sheen. Works well with Mahogany and Walnut.
Medium is our preferred and suggested standard selection for Maple and Mahogany. It is a moderate reflective sheen that finishes extremely well on all our items.
High Gloss is a high reflective finish that shimmers brightly in light. It can be applied to all our wood selections and is typically specified for table tops and accent pieces.
Lacquer is an extremely high reflective finish ("shiny") that is recommended for our paint color selections (black, white, red, or any paint color). Recommended with non-porous surfaces, like Maple.
EXOTIC WOOD VENEERS
A wide range of exotic veneer upgrades are available on all Plush Home furnishings, usually applied on doors, drawer fronts, and tops, but are also used all-around. Our exotic veneers are hand-rubbed to bring out the brilliance of their natural beauty. Below are samples of our Tier I and II upgrade options . Please request to view samples of the hundreds of additional exotic breeds that we work with. Depending on the selection and desired atmosphere, our suggested sheen level for exotic veneers range from matte to high gloss sheen.
CUSTOM ORDERS
Nothing is as discriminating as a custom, hand-crafted furniture item. As standard fare, Plush Home offers bespoke furniture to help you achieve the ultimate expression of individuality, style and comfort.
Our custom program offers more than just fabric and finish stain options, each item is individually hand-crafted exclusively to your design, and measurements to ensure a perfect fit for your space.
Whether you require extra drawers for a nightstand, a specific mattress height for a bed, or additional leaves for a dining table, our detailed and painstaking process involves several stages to get it to its final result of being a Plush Home product.
We begin by generating a furniture quote for you based on your specific design. Once the order is placed, our CAD engineers will generate detailed shop renderings for your final approval, prior to commencement of production. Once completed, we continue to oversee your item until final delivery.
LEAD TIMES
Upholstery: approximately 6-8 weeks
Woodwork: approximately 8-10 weeks
Please allow an additional 2-14 days for nationwide shipping.
Manufacturing time may be extended for custom orders or fabric delays.
CLEANING YOUR WOOD FURNITURE
Dust your furniture on a regular basis using a soft clean cloth, always wipe in the direction of the grain and avoid circular rotating movements. To remove any greasy marks on your furniture use a soft lightly damp cloth or a fine chamois leather can be used. The cloth or leather should be lightly damped with warm water.
For more persistent marks a solution of mild vinegar or mild detergents such as washing up liquid can be used in a warm water solution. The cloth or leather should always be used wiping in the direction of the grain. After wiping the table in this manner a soft dry cloth can be used to lightly buff up the surface, again wiping in the direction of the grain.
Very stubborn marks can be removed by substituting the warm water solution with white spirit or turpentine; again the same process should be carried out. After the table has been cleaned a soft dry cloth should be wiped over the surface to buff and polish the top. UNDER NO CIRCUMSTANCES SHOULD ANY SILICONS OR SILICONE IMPREGNATED CLOTH BE USED.
WAXING YOUR CASEGOODS
The final finishing process of Plush Home Furniture involves completely waxing your piece of furniture by hand, therefore all Plush Home Furniture that leaves our factory does not need any wax applied to it for at least 9-12 months.
For regular cleaning, a non-wax cleaning and dusting spray, such as "Endust" is recommended. When wax is applied to your Plush Home Furniture a non-silicone based furniture wax should be used very sparingly.
We advise customers to use a wax, which can normally be obtained in tins or jars. Spray waxes are not recommended as many incorporate silicone agents which when applied to any high quality polished surface will leave a silicone film that builds up and cannot be removed by normal methods.
Apply your wax always using a soft cloth and wiping in the direction of the grain. A second cloth can then be used to wipe over the surface before final buffing and removal of any excess wax.
OTHER USEFUL INFORMATION
Many of the processes we use in hand finishing our furniture have been passed down through years, and stains like natural timbers will change color if exposed to strong sunlight. Care should be taken by regularly moving ornaments on display to prevent discoloration of surfaces. Where possible dining tables which incorporate leaves should be turned two or three times a year, whilst leaves that are stored should be interchanged to avoid any surface color changes.
Hot dishes will also mark our finish; therefore we always recommend that either heat resistant place mats or a suitable heat resistant table pad should be used on our dining furniture to give adequate surface protection.
NATURAL TRAINS OF AUTHENTIC WOOD PRODUCTS
Much like fine leather, glazed tile, or even precious gemstones, each piece of natural wood has its own unique traits. The type of soil the tree was grown in, the weather; even the amount of moisture and sunlight has effects on the graining and induce delicate color variations. These subtle individual distinctions are part of the beauty of any natural wood product, and are considered nature's stamp of authenticity on luxury furniture. Each variation on a custom casegood item makes that piece more interesting, and creates a sophisticated charm that brands your future heirloom as a one of a kind natural product.
DECORATIVE VENEERS
When using decorative veneers including, but not limited to curl mahogany, burr yew or walnut it is almost certain that some veneer movement will occur. Cross bandings are also liable to some movement; however this movement which is slight should be seen as part of the overall ambience of our furniture. Indeed when looking at an original piece such as antiques of the period such timber movement can be clearly seen and is therefore regarded by many in the trade as an enhancement to the overall appearance of the furniture.